Electrical is rarely a DIY project. Even simple lighting and ceiling fan installations require an expert approach to make sure they're handled safely and up to code. If you have a home electrical project—no matter how big or small—make sure you're calling a licensed electrician in Doylestown, PA.
D & G Electrical Contractors, Inc. is able to provide you with complete residential electrical services, always with the utmost care and safety. Some of our abilities include:
Ceiling fans
Looking to add or replace a ceiling fan in your home? Let us tackle the wiring and fixture installation for you, so you can enjoy the gentle breeze and soft lighting of these excellent overhead fixtures.
Appliance hookups
We specialize in washer and dryer hookups, while also having the experience and capabilities to install a wide variety of other appliances as well. Whether you're upgrading or working with a brand-new development, we're here to help with appliance hookup.
Generators
Have a generator that needs to be wired in or serviced? Our abilities include generator services and we're familiar with major manufacturers like Generac. Count on us to handle your generator needs fully and completely.
It doesn't stop here, either! Whatever electrical your home demands, we're your full-service residential electrician in Doylestown, PA. From simple outlet and switch installation, to panel service and new lighting, count on us to deliver quality service.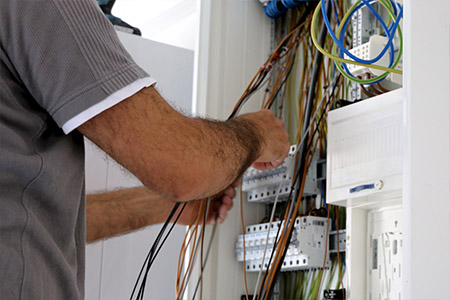 Electrical Upgrades
One of our chief specialties is working with electrical upgrades in homes that may be reliant on old, outdated knob and tube systems. We can deliver rewiring services that replace these often-unsafe installations and can upgrade your panel to accommodate modern 240V electrical demands.
Troubleshooting
Lights flickering? Dead outlet? Low humming coming from your electrical devices? We're quick to deduce electrical problems and swift to deliver repairs that set things right again. From short circuit identification to breaker services at your panel, we'll get to the root of any problem and make sure your home stays safe.
Residential
Contact D & G Electrical Contractors, Inc. the next time you require electrical service in your home and see why customers have been recommending us for decades! Reach us for an estimate at 215-345-0873.