Though we primarily specialize in working with residential electrical systems, the team of master electricians at D & G Electrical Contractors, Inc. is well-equipped to take on commercial grade projects of all scopes and sizes. When you need a commercial electrician in Doylestown, PA who can adapt services to the needs of your facilities, we're the ones to call.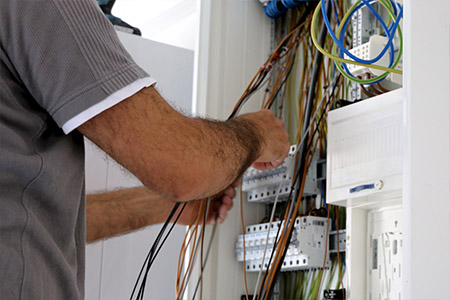 General Electrical Service
Keeping up on the many electrical demands of your commercial facilities isn't easy. Luckily, we're available to stay on top of things. Count on us to for all types of general maintenance and repair services, including lighting at any scale. We're knowledgeable in commercial electrical codes and can also make sure your facilities remain aligned with these standards.
Improvements and Installations
It's best to trust an experienced commercial electric contractor in Doylestown, PA when the need for improvements and new installations arises. We can handle detectors, lights, backup generators and a slew of other electrical amenities and fixtures. We have experience in delivering light commercial improvements and installations to customers across a wide breadth of industries.
Safe in Any Environment
Working in commercial facilities demands tact and organization to ensure everything remains safe at all times. We maintain the ability to work in confined spaces and after hours, to minimize disruption to your business and its patrons. We also take the time to ensure a clean worksite, keeping materials and messes to a minimum, while working with precision and quickness.
Contact us for Light Commercial Work
If your commercial facilities are in need of general electrical maintenance or repairs, or you have a light project upcoming that demands the work of a seasoned professional, contact D & G Electrical Contractors, Inc. We're ready to showcase the high level of services that we're well-known for. Contact us today at 215-345-0873.